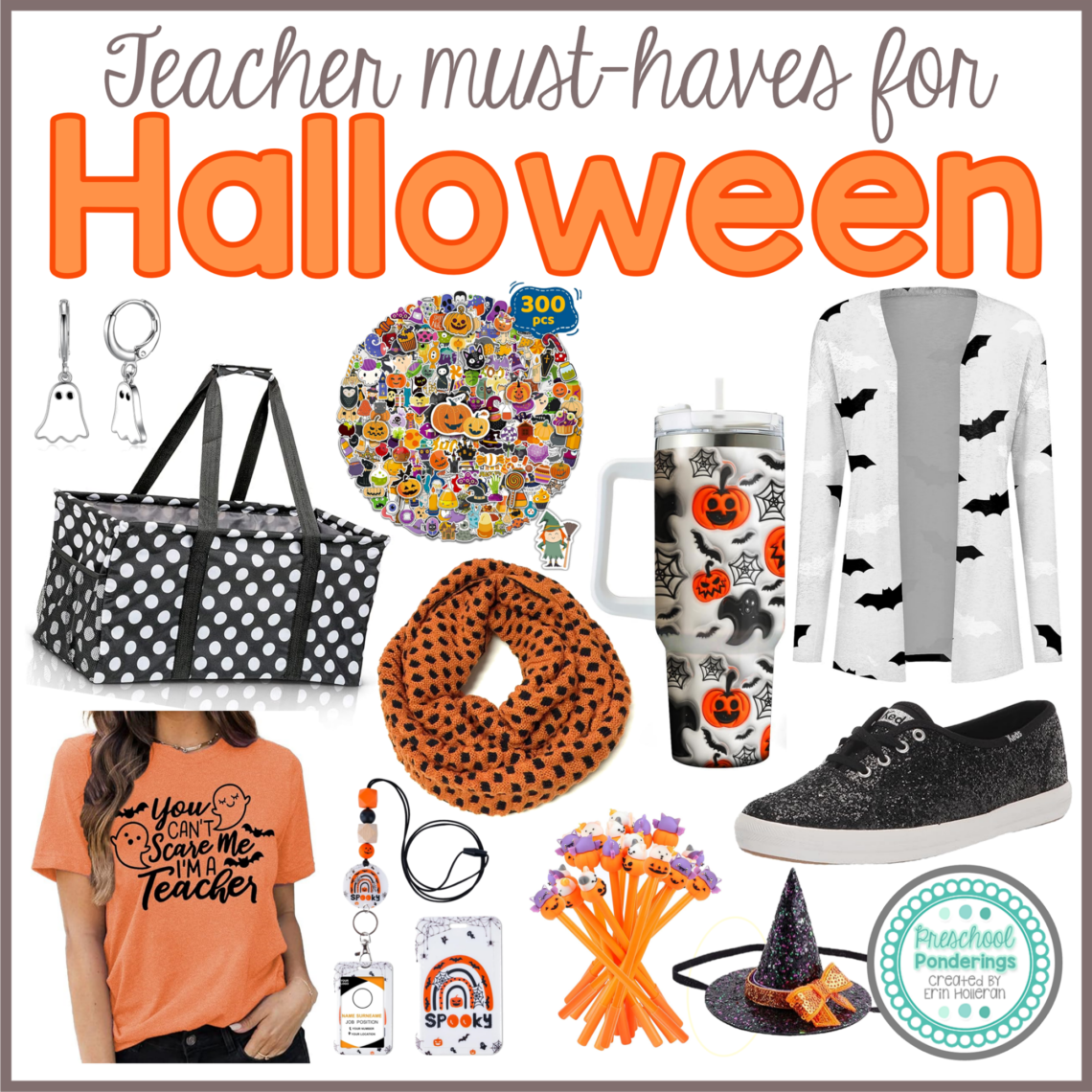 halloween
,
Holidays
,
preschool teacher
,
products for teachers
,
resources for teachers
,
teacher
,
teacher gifts
,
teacher inspiration
,
teacher life
,
teacher stuff
,
teaching life
,
teaching products
Halloween must-haves for teachers
My love of all holidays is no secret – truly one of my favorite things about teaching is the excuse to go all in when it comes to celebrations. Halloween is no exception! From my wardrobe to classroom supplies, I've been scoping out all of the Halloween fun. Here's what is currently on my Amazon wish list (all links are affiliates).
Ghost earrings – How cute are these?! I love that they dangle a little, but won't be too heavy to wear all day. They're pretty small, so they also won't be too easy for little hands to grab.
Polka Dot Tote – When it comes to celebrations at school I tend to have a lot of random things to transport. Enter the large utility tote. I can fit anything from small kitchen appliances (IYKYK) to treat bags and costumes in this thing. The subtle black and white holiday association makes it both fun for the season and useful year-round.
Stickers – Vinyl stickers are my new favorite treat. They're popular with every age group, and if I don't end up using all of them they're easy to save for next year. These are cute, not spooky, and perfect for school.
Orange and Black Infinity Scarf – My favorite thing about this scarf is that it actually looks warm. I'm in the Midwest and Halloween can be COLD. I have memories of trick or treating in the snow, so having a holiday-appropriate scarf that actually serves it's intended purpose definitely makes a difference.
Halloween tumbler – Is a holiday themed tumbler necessary? No, absolutely not. Do I still want one? You bet! To be fair, I would absolutely use it for most of September and all of October…
Bat Cardigan – This sweater comes in 37 different Halloween styles. 37! There is quite literally an option for everyone. I love how light this cardigan is because I'm always cold, but when I'm running around the classroom it can get really hot. I chose the bat style because it's a little understated, and the gray and black would be perfect with the orange tee that I'm linking next.
Teacher Halloween Tee – Ugh, these cute little ghosts get me every time. The saying is perfection and I truly believe that one cannot have enough holiday-themed tees.
Black Glitter Keds – Some things never change, I LOVE these shoes just as much now as I would have at 5 years old. They can definitely be worn year-round but the black sparkles are my Halloween vibe for sure. They're a little fancy, while still being sneakers. It just doesn't get better than that.
Witch Hat Headband – I actually have one very similar to this already (but mine is not nearly as sparkly, which means I might need a new one). I wear this every year because it's the perfect way to be a little extra for the holiday without an actual costume. These also come in a two pack, so they'd be perfect for a teaching team or to share with your teacher bestie.
Halloween Pens – These are the cutest little Halloween favors that I've ever seen. They feature three different toppers; a bat in a pumpkin, a cat with a witch hat, and a bear with a pumpkin hat. Any kid (or teacher) would be happy to receive one of these. They're pens, but they could also be used as pointers, reading trackers, and magic wands.
Halloween Lanyard – Why have I never thought to get holiday themed lanyards?! I'm completely obsessed and I feel a new collection coming on…
If you're feeling like a splurge this is your sign to treat yourself, I know I'll be adding these to my cart as the holiday gets closer!