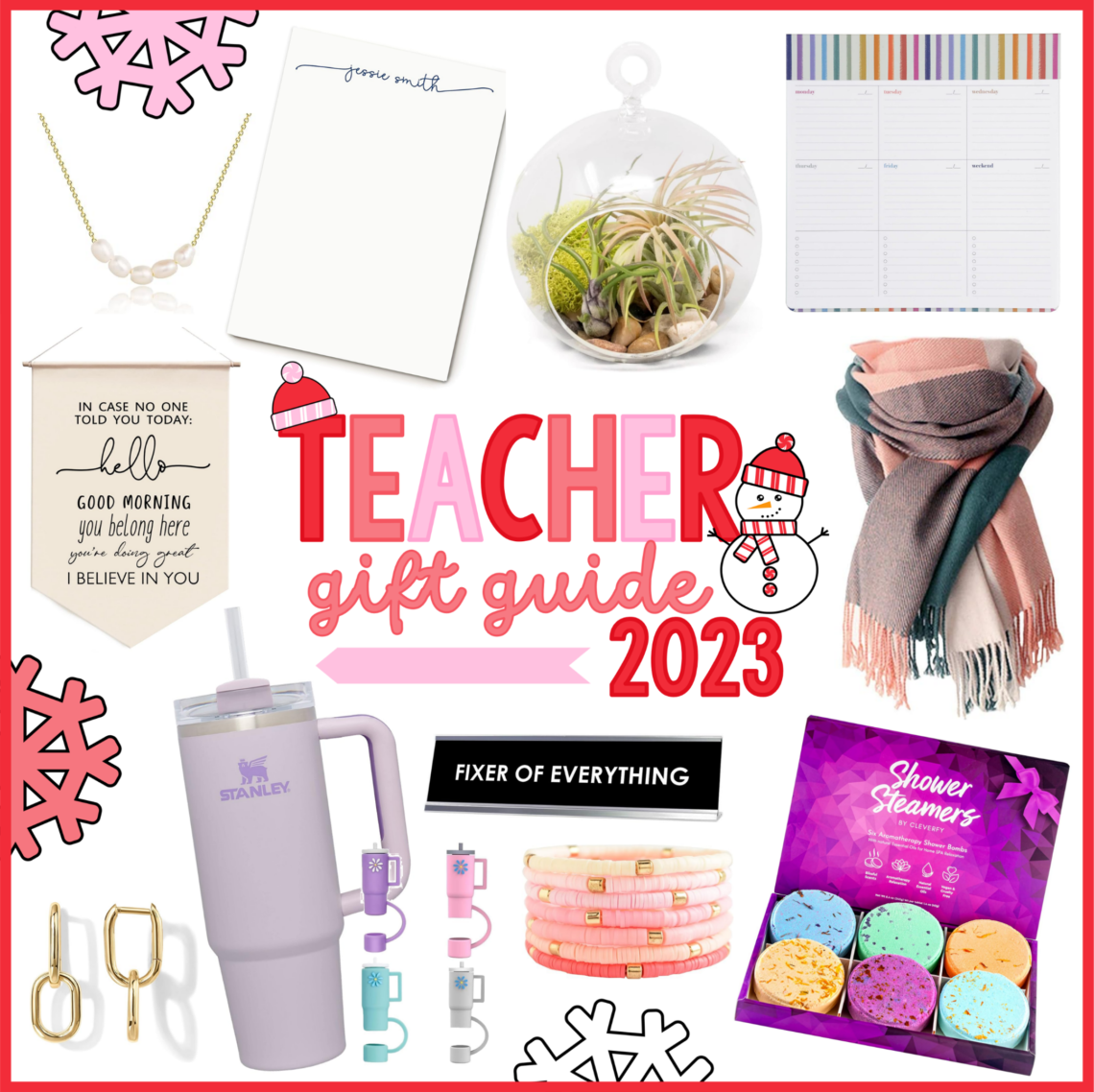 christmas
,
gift guide
,
gift guides
,
gifts
,
Holidays
,
honoring teachers
,
preschool teacher
,
products for teachers
,
teacher
,
teacher appreciation
,
teacher gifts
,
teacher life
,
teacher stuff
,
teaching life
Best Gifts for Teachers 2023
I've got one more gift guide for you this week! When it comes to putting these together, the teacher gift guide is always the most challenging. What you choose to give your child's teacher has a lot to do with your relationship with them – which can mean that there are a ton of different variables at play. I also find it really important to share ideas that don't look like every other list on the internet (do you know how many teacher gift lists there are that list gift cards, scented candles, and hand soap???? – Too many). Here are the items that the teachers I know would absolutely love this year. Just a reminder, these are affiliate links and I may receive a portion of the proceeds.
Dainty Pearl Necklace – This is a classic piece that won't break the bank, but will definitely get worn often. It's simple and elegant, it can be dressed up or down, and it'll become an instant favorite.
Personalized Notepad – A good notepad is always needed! A personalized one can make life easier, and it feels like a real splurge. Any teacher would love this.
Air Plant Terrarium Kit – Put together a beautiful touch of greenery for your favorite teacher's classroom. An air plan needs no maintenance, so it's perfect for a busy teacher – and a little bit of nature can do a lot for the classroom environment.
Weekly Schedule Notepad – What a great way to start the new year organized! Being able to see all of the necessary, important tasks at a glance can be so helpful, and really make the week run more smoothly.
Blanket Scarf – A scarf can be used so many different ways; to dress up an outfit, stay warm outside, and as another layer in a chilly classroom. Even the teacher who swears they don't need or want anything will love this gift.
Shower Steamers Gift Set – Teachers work so hard, and definitely deserve some pampering. This is a fun idea that's a little bit different than the typical bath bomb or lotion.
Cute Bracelets – These walk that fine line between friendship bracelets and nice jewelry, and they're absolute perfection. Gift a teachers' favorite color, or school colors for a fun spirit day accessory.
Desk Name Plate – This is just pure fun, and it'll bring a smile to any teacher's face. There are some rough days in any classroom and sometimes we all need a little levity, this would be a great reminder.
Stanley Tumbler – This might be a bit of a splurge, but it's honestly a great cup AND it can be really nice to get a gift that's a little over the top. I'm personally partial to the 30oz size, but the 40oz would be great for someone who can't leave the classroom for refills very often.
Straw cover – These are cute and practical, which is always a win. I don't know about you, but the idea of something (i.e. a bug) going down my straw gives me anxiety – these help alleviate that. Spills happen in the classroom, and while these won't make any cup leak-proof they will slow things down a bit!
Chain Link Hoop Earrings – These are fashionable and classic at the same time. Accessories make an outfit – but teachers don't always have time, or mind space to pull one together. These will easily match anything, and they're super budget-friendly.
Classroom Banner – I stumbled across this and have been thinking about it ever since. I can't imagine being a child and seeing this on my classroom wall every day – how powerful of a reminder would the be?!
A teacher's favorite gift will always be a parent or student's appreciation for the work that they do, so there's absolutely no obligation to buy a gift – a heartfelt card will always be treasured!