Christmas gifts for 3, 4 and 5 year olds 2023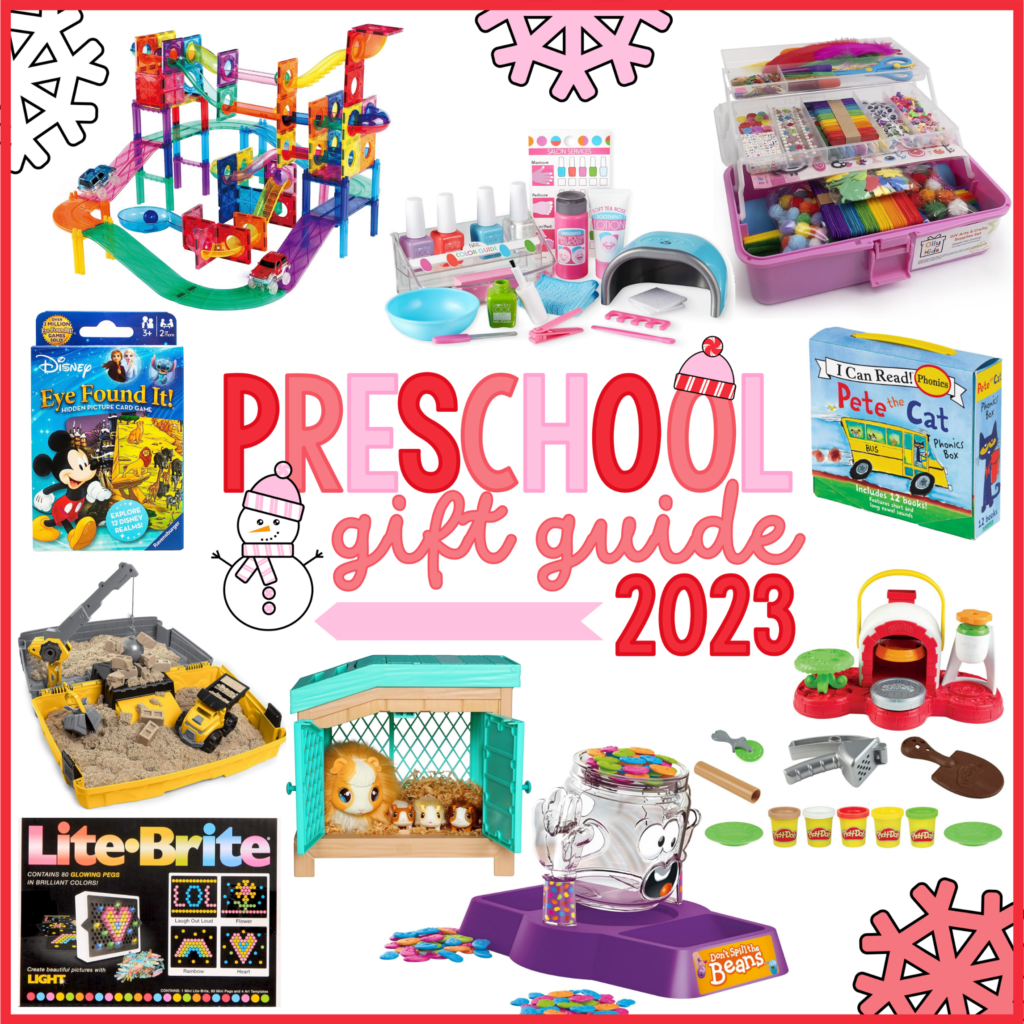 Gift guide number 3 is here! Preschoolers really have opinions about what they like, and that makes a huge difference when it comes to shopping for holiday gifts. Even if you don't know what the preschooler that you're shopping for loves, there are still some gifts that will absolutely hit the mark. Here are my best recommendations for 2023. Just a reminder, all links are affiliates and I'll receive a portion of the proceeds.
Picasso Tiles Marble Run Set – This looks like so much fun! Magnet tiles are always a win, they keep preschoolers busy forever, so adding the marble run component is genius. I can definitely see the entire family getting into building with this.
Melissa and Doug Manicure set – My favorite thing about this set is that it doesn't include real nail polish. Parents can feel good about their preschooler playing with this and not worrying about a potential mess. It would be so fun to act out a trip to the nail salon using all of these accessories.
Olly Kids Arts and Crafts set – When it comes to gifting art supplies, including a container that stores them all is key! The layered organizer that comes with this set is just as much fun as the supplies themselves. This would definitely inspire a preschooler's creativity.
Pete the Cat Phonics Set – The phonics book sets are my favorite books to gift right now, there are so many different character options available (but you can't go wrong with Pete the Cat). This set of 12 books (10 true books and 2 activity books) focus on long and short vowel sounds so that early readers can successfully work through these on their own. These are excellent for preschoolers who aren't quite ready to read them independently yet because they're so short and easily portable.
Play Dough Pizza Kitchen – Play Dough, what more is there to say?! When in doubt, I always gift play dough because it will definitely get used and there are so many different themes available. This pizza kitchen set includes a "cheese shredder," pizza paddle, and mini pizza cutter.
Don't Spill the Beans – Classic Hasbro games are classics for a reason, and any preschooler will happily play them until their parents beg for something else. Don't Spill the Beans focuses on balance, but you can also choose from Ants in the Pants, Don't Break the Ice, Hungry Hungry Hippos, or Hi Ho Cherry-o.
Little Live Pets Guinea Pig and Hutch – Every preschooler wants a pet, and this is exactly the kind of "pet" that a parent will be happy to receive. Children can pretend to care for the guinea pig and babies, but if they stash it in a corner and forget about it for weeks, everything is still fine when they come back to it!
Lite Brite Mini – The same classic Lite Brite in a mini size. This is perfect for preschoolers and doesn't take up as much space in the closet when it isn't in use. Preschoolers love anything that lights up, and this adds a creative component too.
Kinetic Sand Construction Set – Any construction or truck-loving preschooler will be all over this set. Kinetic sand is so much fun, and adding construction equipment makes perfect sense. There's also a wrecking ball, so children can build a sand structure and then knock it down with the wrecking ball.
Disney Eye Found It Game – This card game is a fund one for preschoolers and their parents. Players search Disney scenes for specific items, racing other players to find it first.
These are all options that any preschooler would be happy to receive. If you're shopping for an infant or toddler, make sure to check out those gift guides too! I'll be back on Monday with a teacher gift guide, because 'tis the season (ready or not)!