Christmas gifts for 2 and 3 year olds 2023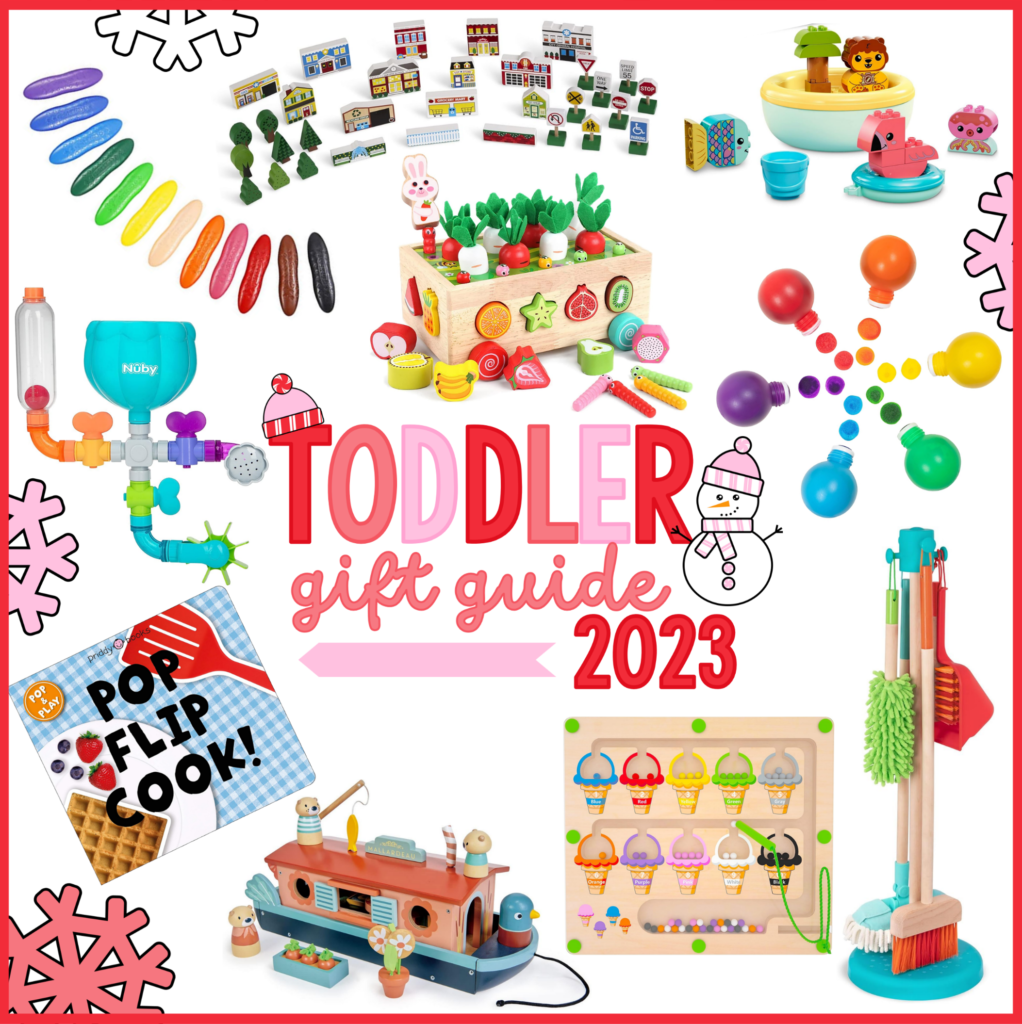 Here's another holiday gift guide! Toddlers are so fun to buy for because they're finally understanding how to play with toys. There are so many things that you can introduce them to and they use toys in such creative ways. Here are my favorite recommendations for 2023. Just a reminder, all links are affiliates and I'll receive a portion of the proceeds.
Peanut Shaped Crayons – These are good for so many reasons! They're designed to be easy for little hands to hold, and the lake of a paper wrapping means that children can use them any way they like. They're also nice and thick, so they won't break as easily as a traditional crayon.
Melissa and Doug Wooden Town Set – The quality of this set can't be beat. All of the pieces feature great details, they're chunky and easily stand up on their own, and can be assembled in countless different ways. These pieces would be perfect to use with cars, people figurines, or wooden trains.
Shape Sorting Garden – I want to play with this! Every single piece is so cute – all of the painted details really give it character. It just looks so fun and inviting. It also has the wheels and rope handle so that it can be pulled around, which every toddler loves.
Bath Time Duplos – Why have I never thought about putting Duplos in the bath tub?! The chunky size makes them easy to hold onto – even when they're wet. The island and inner tube pieces in this set actually float and the animals are adorable.
Toddler Easy Grip Daubbers – These are bingo markers especially designed for toddler hands. I'm a huge fan of bingo markers because children LOVE making those perfect polka dots, and I love that I don't have to put out any paint or clean up after them!
Battat Kids Cleaning Set – Toddlers play by acting out the tasks they see their parents doing. Giving them cleaning supplies that are safe for them, and designed to be just their size, can be so helpful for families. Parents can say yes when little ones want to help without having to worry about things can scratched or banged up by adult-sized cleaning tools.
Magnetic Color Maze – I just love these because all of the tiny little pieces stay firmly behind the plexi-glass. There's no mess and children are just as intrigued by how they work as they are by the actual color sorting task itself.
Tender Leaf Toys Canal Boat – Tender Leaf Toys is a new-to-me brand and I'm obsessed! They've really made an effort to create new and different themes and characters, and the quality and detail are incredible. This adorable little boat features three little otter characters and everything they need to enjoy time in their cute little houseboat.
Pop, Flip, Cook Book – this adorable little book has pieces that pop out so that toddlers can really engage and play with every page in the book as they learn all about making breakfast. This book will quickly become a favorite.
Nuby Wacky Waterworks Pipes – This is a bath toy that will easily grow with children, making it something that will be loved for years to come. Little ones can twist the pipes to change the water pressure, or change the direction of different tubes to explore cause and effect.
If you're looking for infant ideas, or some options for very young toddlers, please check out the infant gift guide that I shared on Monday. The preschool guide will be up on Friday!